Details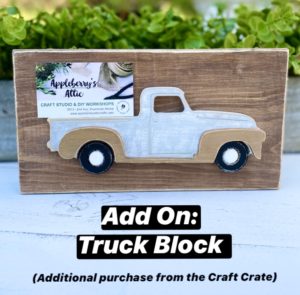 If you missed this Seasonal Truck Block in September…. grab your's now before they're gone! Not only are they versatile but we love that every season you'll get a new shape in your Craft Crate to paint, decorate, and put in the back of your truck!
This Block is 10″ wide and 6″ tall. The Truck itself is 8″.
You will receive the block, truck and fender… so 3 pieces total. All pieces are raw wood and ready for you to paint and create your one of a kind piece.
Your November Craft Crate will include this seasons shape… the Christmas Tree!