Event Details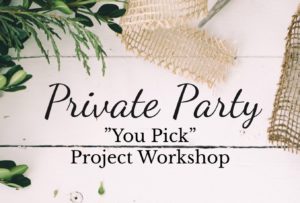 The Date: Saturday, May 22nd
The Time: 12:00 -3:00
The Location: Appleberry's Attic Craft Studio in Downtown Anoka! 
228 E. Main Street Anoka, MN 55303 (next to Subway)
We can't wait to craft with you!
If you have questions please feel free to email us, or for the fastest response, message us on Facebook!
See you soon!
– Jen Appleberry
*** Our COVID 19 Policy can be found under Terms & Conditions. But just know we are practicing safe and responsible measures to keep you and our team safe. Six foot distancing around tables will be done to keep crafters safe. Masks although mandatory by the governor… we want you to know you have rights. So if you or one of our staff members experience or suffer from a mental, physical, behavioral, or cognitive disability, just know we won't ask you to wear a mask, we will respect your privacy and we will not refuse service.
*All supplies and tools are cleaned before and after each party.
Due to the nature of the event, no refunds will be made if you have already paid but we will gladly let you come and pick up your items if you'd like to make the craft at home!
We also ask that you check your calendars and RSVP as soon as possible, if you plan on coming to this event.
These crafts require plenty of prep and steps to be pre-done before you girls arrive.