Details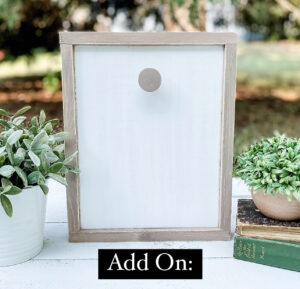 If you missed this Interchangeable Sign w/in a Sign last month…. grab your's now before they're gone! Not only are they versatile but we love that every season you'll get a new Hanging Mini Sign in your Craft Crate to paint, decorate, and put on your Sign! One sign… tons of different Seasons and ways to love her! 
This really is how you make Seasonal Decor Functional & FUN!
This Sign w/Frame measures in at approximately 12″ by 14″ and comes with the board, frame and knob for you to paint and create however you see fit!
Your October Craft Crate will include this seasons Thanksgiving Mini Sign.