Event Details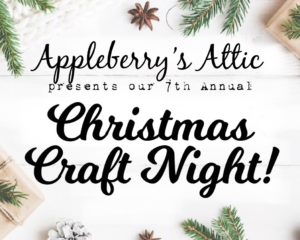 Details…
The Craft: Wooden Christmas Door Tags for you to personalize and decorate!
Two Nights to Choose From: This link is for THURSDAY, December 3rd
The Time: 5:00 – 9:00
The Location: The Courtyards of Andover
– 13545 Martin St. NW, Andover, MN 55304 –
We can't wait to craft with you!
If you have questions regarding this night please feel free to email us, or for the fastest response, message us on Facebook or give us a good ol' fashion phone call! 612.270.2080
– Jen Appleberry
Due to the nature of the event, no refunds will be made if you have already paid but we will gladly let you come and pick up your items if you'd like to make the craft at home!
We also ask that you check your calendars and RSVP as soon as possible, if you plan on coming to this event. This night requires huge amounts of prep and steps to be pre-done before you girls arrive!
*** Our COVID 19 Policy *** can be found under Terms & Conditions. But just know we are practicing safe and responsible measures to keep you and our team safe. Six foot distancing around tables will be done to keep crafters safe, along with only 6 people allowed at a table. The Courtyards of Andover Ballroom normally seats 500, this year the numbers will be cut down to only 180 per night to ensure space and distancing is done.