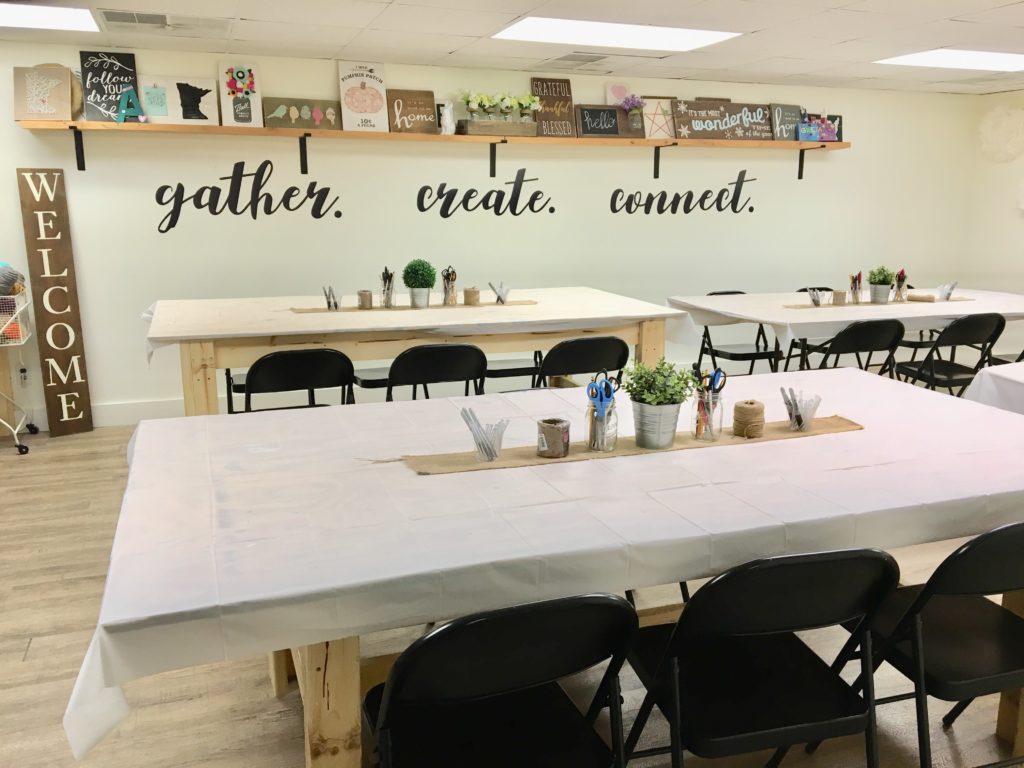 At Appleberry's Attic we believe in creativity and fellowship! Owner, Jen Appleberry, is not only passionate about that, but has turned her love for crafting and getting women together into a small business. We believe if you can get a night out to recharge, create, and connect… well it will just fill your cup so that you can go home and give back to the ones you love most!
When it comes to crafts, projects, and DIY's… we really pride ourselves on living outside of the box and remaining Pinterest current! Never wanting to keep ourselves in the category of just Signs or just Canvases, we make sure we are continually working on new projects, techniques and ideas. One month you could see us building ladders, mason jar boxes and signs. The next month you could see us creating felt flower projects, wreaths, and chalkboards. – If the core of who we are is passionate about connecting and community, then we never want to stay with just one type of craft! Besides… the world is our oyster and there is so much more to learn and make!
So, "What is a Craft Class" you ask?
Each month Appleberry's Attic hosts 4 – 6 Public Events. We pick the craft or crafts for that night and you are able to purchase your spot right here on this website via the "All Events" tab. You get to choose the date that works best for you and the craft you'd like to create. Whether you come by yourself or with a friend, we promise you'll have a wonderful time!
When you arrive for your scheduled class we will provide all the materials and instructions to make your chosen craft. You can customize your project with your choice of paints, stains, colors, techniques, and extras. By the end of the night, you will leave with your one of a kind, beautiful piece… and hopefully a recharged soul. 🙂
Besides our Public Events and Classes, we leave several dates open for Private Parties! Private parties are fun because not only do you get to choose the craft, but the Studio becomes yours for the night! You can leave the planning up to us with the craft and complimentary treats or bring in whatever food or beverage you'd like! Private Parties are great for just about any occasion… Girls Night Out, Birthday Parties (Adult or Kid), Bachelorette Parties, Team Building Events, Mother Daughter Nights, Sports Team Outings, Fundraisers, Corporate Events, and so much more! Check out the "Private Events" tab for all the official details. Or here for more details on a Kids Birthday Party!
So grab your mom, sister, friend, or neighbor and get to one of our classes asap!
– We can't wait to craft with you!